Alexandra St.Pé (Ph.D. Candidate in Geography and Environmental Systems)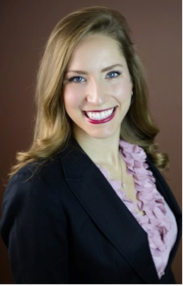 Education History:
B.S., Meteorology, Mississippi State University
M.S., Geography and Environmental Systems, University of Maryland, Baltimore County (UMBC)
Research Interests: energy meteorology, offshore wind development, renewable energy policy, energy economics, energy system standardization
To pursue her passion for understanding climate change related challenges and solutions, Alexandra joined the Atmospheric Lidar Group at the University of Maryland, Baltimore County (UMBC) in Summer 2011. While working with the group, she completed her Master of Science degree in the Department of Geography and Environmental Systems (GES), serving as a Graduate Research Assistant for NASA's Hurricane and Severe Storm Sentinel (HS3) mission, where she used satellite and model/reanalysis data to investigate multi-decadal relationships between North Saharan dust outbreaks and the large-scale Atlantic hurricane environment. While completing this graduate degree, Alexandra became particularly interested in climate change mitigation strategies, and decided to further her studies of offshore wind energy meteorology. She is currently pursuing her Doctorate of Philosophy in GES, using Doppler wind lidar and other remote sensing technology to develop a novel methodology for assessing the impact of local atmospheric processes on offshore wind turbine performance. Given the interdisciplinary nature of her research, Alexandra hopes to use this methodology to build a framework that strengthens cross-disciplinary collaboration; thereby helping reduce ubiquitous uncertainties impeding large-scale installation of wind energy technologies. Over the past year Alexandra has participated in two atmospheric measurement field campaigns, the Experimental Measurement Campaign for Planetary Boundary Layer Instrument Assessment (XPIA) and Vertical Enhanced Mixing Measurement (VERTEX), funded by DOE-NREL and NSF, respectively.
Publications:
Lundquist, J., Wilczak, J., Ashton, R., Bianco, L., Brewer, A., Choukulkar, A., Clifton, A., Debnath, M., Delgado, R., Friedrich, K., Gunter, S., Hamidi, A., Valerio, G., Kaushik, A., Kosović, B., Langan, P., Lass, A., Lavin, J., Lee, Y., McCaffrey, K., Newsom, R., Noone, D., Oncley, S., Quelet, P., Sandberg, S., Schroeder, J., Shaw, W., Sparling, L., St. Marin, C., St.Pé, A., Strobach, E., Tay, K., Vanderwende, B., Weickmann, A., Wolfe, D., Worsnop, R. (2016). Assessing State-of-the-Art Capabilities for Probing the Atmospheric Boundary Layer : the XPIA Field Campaign, Bulletin of American Meteorological Society, doi:10.1175/BAMS-D-15-00151.1.
Su, J., Felton, M. Lei, L. McCormick, P., Delgado, R., St. Pé, A. (2016) Lidar Remote Sensing of Cloud Formation Caused by Low-Level Jets. Journal of Geophysical Research-Atmospheres, 121, doi:10.1002/2015JD024590.
St. Pé, A.,Wesloh, D., Antoszewski, G., Daham, F., Goudarzi, N., Rabenhorst, S., Delgado, R. (2015). Improving Maryland's Offshore Wind Energy Resource Estimate Using Doppler Wind Lidar Technology To Assess Micrometeorological Controls. International Lidar Radar Conference Proceeding, New York, New York.
Goudarzi, N., Lei, X., St. Pé, A., Rabenhorst, S., Delgado, R., Sandborn, P. (2015). Maintenance Optimization of a Wind Turbine: The Impact of an Accurate Wind Speed Measurement. Proceedings of the ASME 2015 Power Conference, San Diego, California.
Goudarzi, N., Zhu, W., Delgado, R., St. Pé, A., (2014). An Assessment on the Wind Energy Resource Potential for Residential Power Generation in Baltimore City, Maryland, USA. Proceedings of the ASME 2014 Power Conference, Chicago, Illinois.
Presentations:
St. Pé, A.,Wesloh, D., Daham, F., Goudarzi, N., Rabenhorst, S., Delgado, R. Improving Offshore Wind Energy Resource Estimates Using Doppler Wind Lidar: Research to Operation.
American Meteorological Society Meeting, New Orleans, Louisiana, 2016 (awarded 'best poster' in the Seventh Conference on Weather, Climate, Water and the New Energy Economy).
American Wind Energy Association Offshore Wind conference, Baltimore, Maryland, 2015 (awarded 'best poster' in the "Resource" category).